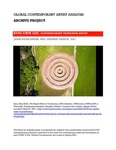 Title
Kuei-Chih Lee: Contemporary Taiwanese Artist
Files
Download Kuei-Chih Lee: Contemporary Taiwanese Artist (3.5 MB)
Publisher
University of Tennessee at Chattanooga
Place of Publication
Chattanooga (Tenn.)
Abstract
Kuei-Chih Lee is an contemporary Taiwanese environmental artist that focuses on using natural materials within his art installations.
Description
This work was created as part of an open pedagogy assignment for Professor Wolf's ART 4190r: Global Currents in Contemporary Art in Spring 2021 at the University of Tennessee at Chattanooga.
Subject
Artists -- Biography
Discipline
History of Art, Architecture, and Archaeology
Digital Collection
Global Contemporary Artists biographies
Rights
http://rightsstatements.org/page/InC/1.0/
Recommended Citation
Highlander, Jamie, "Kuei-Chih Lee: Contemporary Taiwanese Artist". (2021) Global Contemporary Artists biographies. https://scholar.utc.edu/global-contemporary-artists/12.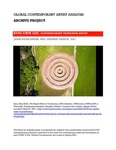 COinS