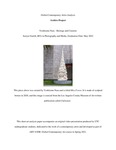 Publisher
University of Tennessee at Chattanooga
Place of Publication
Chattanooga (Tenn.)
Abstract
This presentation and paper describe Yoshitomo Nara. Both the video and paper visually analyze two pieces of Nara's artwork after a brief biography. However, the paper allows the reader to analyze Nara's work through the lens of David Joselit in his work titled "Heritage and Debt."
Description
This work was created as part of an open pedagogy assignment for Professor Wolf's ART 4190r: Global Currents in Contemporary Art in Spring 2021 at the University of Tennessee at Chattanooga.
Subject
Artists -- Biography
Discipline
History of Art, Architecture, and Archaeology
Digital Collection
Global Contemporary Artists biographies
Rights
http://rightsstatements.org/page/InC/1.0/
Recommended Citation
Suerth, Sawyer, "Yoshitomo Nara Biography and Analysis". (2021) Global Contemporary Artists biographies. https://scholar.utc.edu/global-contemporary-artists/15.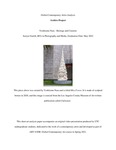 COinS