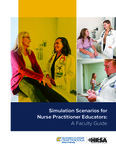 Publisher
University of Tennessee at Chattanooga
Place of Publication
Chattanooga (Tenn.)
Description
Simulation provides a safe environment for students to practice clinical and communication skills needed in advanced practice nursing. Faculty at the University of Tennessee at Chattanooga (UTC) formally incorporated simulation into the nurse practitioner (NP) program curriculum. The UTC NP simulation program was developed utilizing the Healthcare Simulation Standards of Best PracticeTM, Simulation Guidelines and Best Practices for Nurse Practitioner Programs, and the Association of Standardized Patient Educators (ASPE) Standards of Best Practice (SOBP) (International Nursing Association for Clinical Simulation and Learning [INACSL], 2021; Lewis, 2017; Lioce et al., 2020a). The 15 simulation scenarios were developed and integrated into the UTC NP program curriculum plan to ensure consistency and standardization across faculty members and cohorts. The purpose of this text is to share the logistics and scenarios of the UTC NP simulation program so that other NP programs can implement similar plans. This text provides 15 complete simulation scenarios in a template format for the following populations: pediatric, women, and adult. Also included in this text are how to conduct pre-briefing and debriefing sessions, faculty planning for pre- and postsimulation, faculty and student evaluation tools, and incorporating simulated patient actors (SPAs). It is the intent of the authors that those using this text will be able to incorporate the simulation scenarios and other content into their NP programs to help students meet learning objectives and practice clinical and communication skills using a variety of patient situations.
Acknowledgements
This text has been made possible by DHHS, HRSA, ANEW grant number T94HP30920, entitled "Clinical-Academic Network for Developing Leaders," and faculty who recognized the need for more simulation in NP programs.
Subject
Nursing--Study and teaching--Simulation methods
Discipline
Higher Education | Nursing
Rights
http://rightsstatements.org/vocab/InC/1.0/
License

This work is licensed under a Creative Commons Attribution-Noncommercial-No Derivative Works 4.0 License.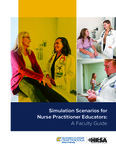 Included in
COinS