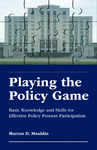 Files
Publisher
University of Tennessee at Chattanooga
Place of Publication
Chattanooga (Tenn.)
Description
Many of us have likely heard the expression "government of the people, by the people, for the people." Yet, it is the people who are often excluded from the public policy process. Citizen engagement is typically reactive rather than proactive and passive as opposed to active. Voting and protesting are not the only ways that governments hear the voices of the people. Voting allows citizens to choose individuals who represent their interests, yet their interests are not always represented in ways they desire. Protesting brings attention to issues but doesn't always lead to problems being solved. This book aims to empower readers to be active participants in the policy process rather than centering elected officials, appointed officials or bureaucrats as the only sources of policy power. This book is written in the spirit of equity. In order to have equitable public policies the voices of those who are impacted by these policies need to be heard as "gaps exist between the services governments deliver and what citizens want or need" (Mintrom & Luetjens, 2018, pg. 122). This is not simply a matter of contributing to policy discourse, but perhaps more importantly, a matter of contributing to the design, development and evaluation of public policy. Further, it is about holding policy makers and other decision makers accountable for their actions and the results of the actions. This book draws from lessons learned from my practical experiences, teaching and research. It is my hope that it equips those on the front lines of public policy and social equity with the tools needed to be effective producers and consumers of public policy ideas.
Acknowledgements
This e-book is supported by a Tennessee Higher Education Consortium (THEC) Online Affordable Instructional Materials Grant. It would not have been possible without the contributions and insights from faculty and staff of the University of Tennessee at Chattanooga Library. I thank graduate assistant Julia Kicinski for her invaluable research and insightful critical feedback. I also want to thank the students in my Summer 2023 Controversies in Public Policy course for their reading of and providing feedback on draft chapters.
Course Prefix and Number
PSPS 1030
Discipline
Higher Education
Rights
http://rightsstatements.org/vocab/InC/1.0/
License

This work is licensed under a Creative Commons Attribution-Noncommercial-No Derivative Works 4.0 License.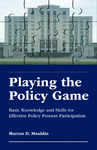 Included in
COinS