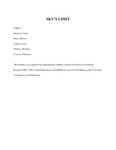 Title
Publisher
University of Tennessee at Chattanooga
Place of Publication
Chattanooga (Tenn.)
Abstract
Sky's Limit is about a 5-year-old biracial girl named Sky, growing up during the Civil Rights period. As she reaches the age of understanding, Sky begins to wonder why her mom cannot join her and her dad on their adventures. One day, her dad takes her to the ice cream shop and Sky realizes that no one else looks like her, nor do the other moms look like her mom. She eventually questions her dad about why her mom can never get ice cream with them. Her dad then reaches for her hand and begins to describe the racial tension currently going on in the United States. As the two arrive home, Sky runs into her mom's arms in tears questioning the actions of the world. Her mom embraces her and explains that the racial tensions will soon die down and they will all be able to get ice cream together. In the end, the "white only" sign is taken down.
Description
A children's book narrative authored by undergraduate students enrolled in Professor Eckelmann Berghel's HIST 3920: United States Race and Childhood course in 2018 Spring at the University of Tennessee at Chattanooga.
Subject
Race relations -- Fiction; United States -- Race relations -- Juvenile literature
Discipline
Children's and Young Adult Literature | United States History
Digital Collection
United States Race and Childhood Fiction for Young Readers
Rights
http://rightsstatements.org/page/InC/1.0/
License

This work is licensed under a Creative Commons Attribution-Noncommercial 4.0 License
Recommended Citation
Pearson, Cheyenne; Dockery, Caleb; Elliot, Kristen; Gallon, Lucas; and Nichols, Houston, "Sky's limit". United States Race and Childhood Fiction for Young Readers. https://scholar.utc.edu/race-and-childhood/2.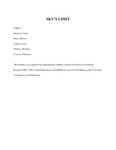 COinS